WIN A $275 JAR OF


E-ZYME

- HERE IS YOUR CHANCE! It's EASY!
Every Month this year chemical Guys wants to say THANKS to all the great customer we have....so we will have monthly giveaways!
THIS MONTHS GIVEAWAY: 3 JARS OF E-ZYME PASTE WAX TO THE LUCK 3 PEOPLE.
If your not already our friend be sure to keep in touch with us on

Twitter or Facebook. Click on either to connect with us today!
TO WIN:

SEND US A PICTURE OF YOU USING ANY CHEMICAL GUYS PRODUCT AND LET US KNOW WHAT YOU LIKE BEST ABOUT IT. BE SURE TO ATTACH A PICTURE OF YOURSELF, YOU AND YOUR CAR, OR JUST A GRE

AT PICTURE OF ANY CG PRODUCT BEING USED BY YOU!
I don't get it what do I have to do?
send us a picture of you using a Chemical Guys products or a picture of you and your car.

include a brief paragraph on what you like about the product.

include your address and phone number so we can contact you if you have won.

3 people will be drawn at random to receive a free E-zyme (and Free Shipping)

you have 7 days from today so GET ON IT!
How do I submit my picture ?
email us and attach your info, picture and description: Sales@ChemicalGuys.com

still confused: Call us (310)674-8135 begin_of_the_skype_highlighting              (310)674-8135      end_of_the_skype_highlighting it would be our pleasure to help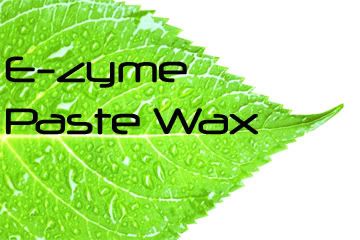 E-zyme Natura is natural. The finest natural wax available. Developed from the most refined natural tropical oil extracts and utilizing the hardest and most durable protective agents nature can produce combined with natural enzymes to deliver a natural paste wax unlike anything you have ever seen or smelled before 100% naturally
This full bodied wax is enriched naturally from rare all natural oils and fruit extracts to deliver an all natural wax with unmatched shine, depth and a warm full bodied shine you could only expect from the highest quality waxes. Natura means
nature, bringing together nature's finest components to create E-zyme Natura the best of Mother Earth's rejuvenating oils and extracts brought together to formulate a nourishing wax that conditions and restores, reviving and highlighting colors to the best of natures ability.
59% by volume pure Brazilian grade number one non-bleached all natural carnauba palm wax from Northern Brazil and grade number one yellow carnauba wax gives E-zyme Natura the ability to shine like no other wax.
Due to naturally derived seasonal oils and enzymes, E-zyme will only be produced mid-year in small runs. Due to rare ingredients, availability may be limited. E-zyme Natura..... Go natural.
Some Feedback from our clients:
Vauxhall
VXR8 Bathhurst-
Sure the car is beautiful and it's fast but you haven't seen anything yet. You have no idea what a Vauxhall VXR8 should look like until you've have seen one detailing by United Kingdoms Premium Detailer Mark E. We feel that this beautifully done
YouTube competition
entry speaks for itself.
We have been privileged to see Marc's work before on numerous accessions but when you ask him about it. " Marc E. is an enthusiast detailer and usually detailers as a hobby". Everyone here at Chemical Guys is sure you will be just as excited about his hobby as we are. Thank You VXRMarc for this great demonstration of your skills and for putting together such a great video.
.