Nonsense- All Surface Super Cleaner Colorless & Odorless Interior + Exterior

Removing dirt and stains from a vehicle is one of the most challenging tasks of and auto detailer. People always ask us what are the best auto detailing supplies for cleaning interior and exteriors, and until now this was a though questions because strong degreasers and cleaners are all to often unpleasant for smelling inside of a car. They may b OK on the outside but no-one wants to flood the inside of a brand new smelling car with the smell of cleaning chemicals. When it comes to auto interior detailing a product like NONSENsE works wonders. Modern vehicle are constructed using many different materials that range from extremely sensitive suede leather, to rough and tough exterior plastics. Many vehicles are also equipped with textured dashboards that need extra care to remove dirt and oils as to not stain and damage the sensitive and delicate material. Choosing the correct cleaning product for each specific material can be a daunting task that can easily frustrate any detailer. We dreamed up a product that would make cleaning any surface quick and easy while still being safe for sensitive materials. After countless hours of research and development, we finally discovered the answer.
Introducing NONSENsE, the revolutionary super cleaner designed to remove dirt and stains from virtually any interior and exterior surface. Engineered utilizing Transparent Cleaning Technology, NONSENsE offers the highest level of cleaning strength without the strong odor or colors found in other cleaners. Don't be fooled into thinking NONSENsE is a 'light cleaning' product. NONSENSE really packs a punch!

Car Cleaning Tips:

Engine bays, dirty wheels, undercarriage and filthy carpets don't stand a chance against the transparent cleaning power of NONSENSE. Created using a unique all natural citrus extract, NONSENSE is pH balanced for the safest user experience possible. NONSENSE is a professional strength product, so we recommend the product be diluted 10:1 to produce a perfectly great clean surface while also being extra sensitive and gentle to the vehicle.
This week at our Chemical Guys Smart Detailing University Training Facility we had a customer bring down his BMW M3 for us to check out. Since our customer is a lawyer located in Beverly Hills, he is always going out to lunch with friends and clients to discuss business. It was not the first time our client had had the interior detailed and as such we was very aware of what he DID NOT want in an auto interior detailing. The client was very upset that the dealer had cleaned the inside of his new BMW with a "Pine Scented" product that he simply hated! The owner also informed us he usually has a number of people sitting in the car that touch and feel the interior leaving greasy finger prints and body oil everywhere. We decided this would be a great chance to test out the amazing cleaning power of NONSENsE to refresh the sleek and modern BMW interior.
To begin, we started by vacuuming the interior well and second gave the interior a complete wipe down with diluted ready-to use NONSENsE to remove any finger prints and body oils left on the dash, door panels, and center console. An Eco-Green Microfiber Towel and a bottle of NONSENSE were the only tools needed. Before starting, we diluted NONSENSE 10:1 with distilled water. Just a few light sprays to the towel provided the perfect amount of product handle the job. NONSENSE easily removed all the excess dirt, oils, and old dressing from the door panels leaving an original clean matte look that many owners desire. NONSENSE even removed the dirt and shoe markings found on the bottom portion of the door panel.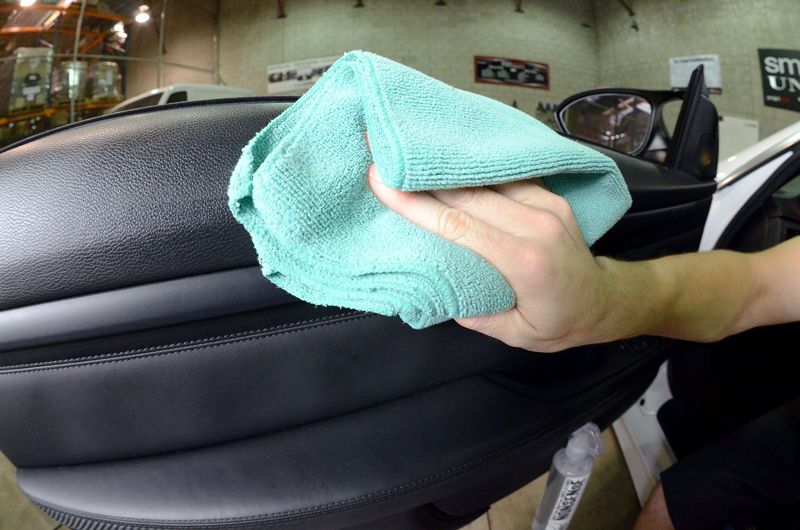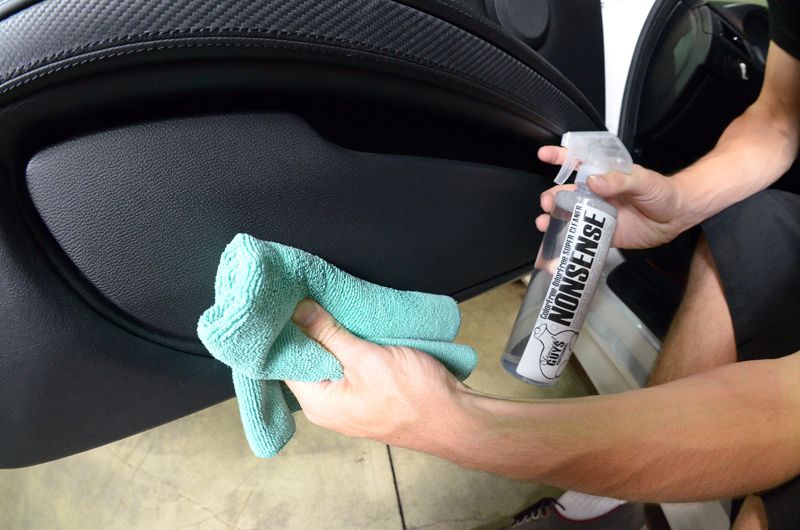 Next we moved over to the dash and center console area. This spot also is a problem area for dirt and body oils because the drivers hands are always touching the shifter and the center console to access the radio and navigation buttons. Just a few quick sprays of NONSENsE on a towel are needed to remove the dirt, dust, and body oils from the dash.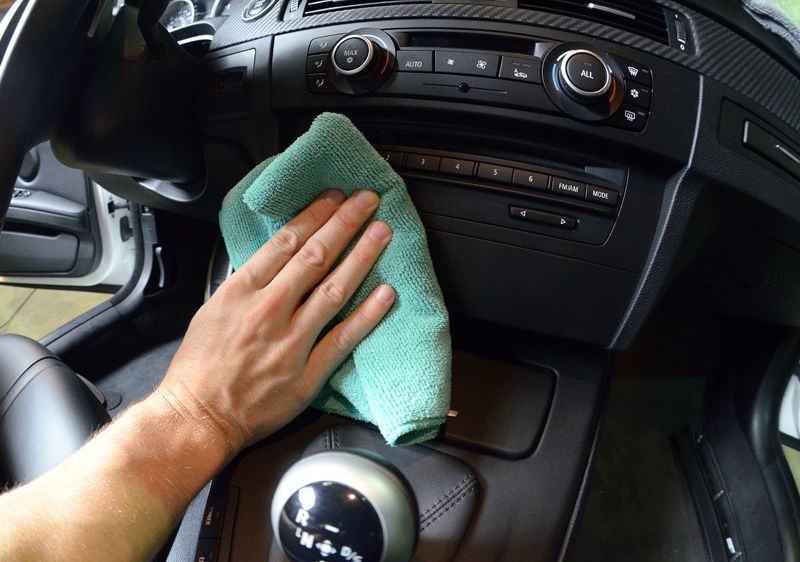 While wiping down the interior, I noticed the carpet floor mats had a few light shoe marks from stepping in and out of the vehicle. There were no major stains so instead of dragging out the carpet extractor we decided to give the mat a light wipe down with NONSENsE. After brushing off all the dirt and debris from the carpet, a few sprays of NONSENsE on a microfiber towel made the floor mat look crisp and fresh looking once again. I was even able to brighten up the 'M3' stitching from being dark and dirty to bright and white. Since NONSENsE has no color, there was no worry about staining to the delicate stitching.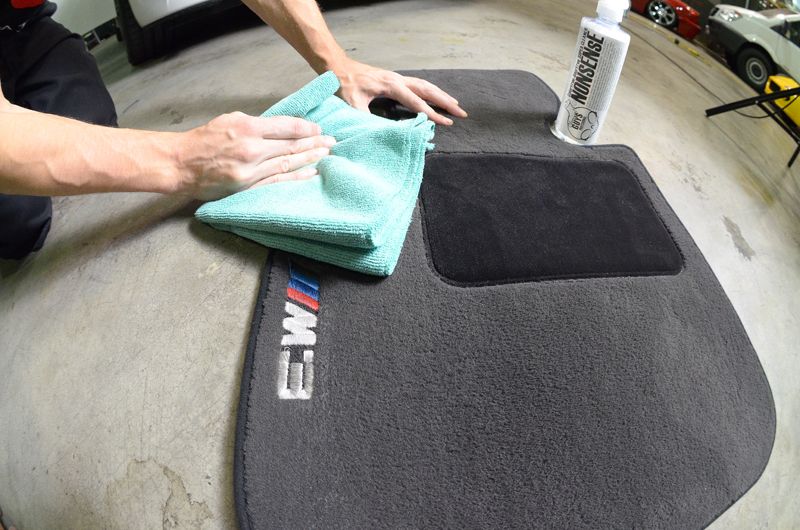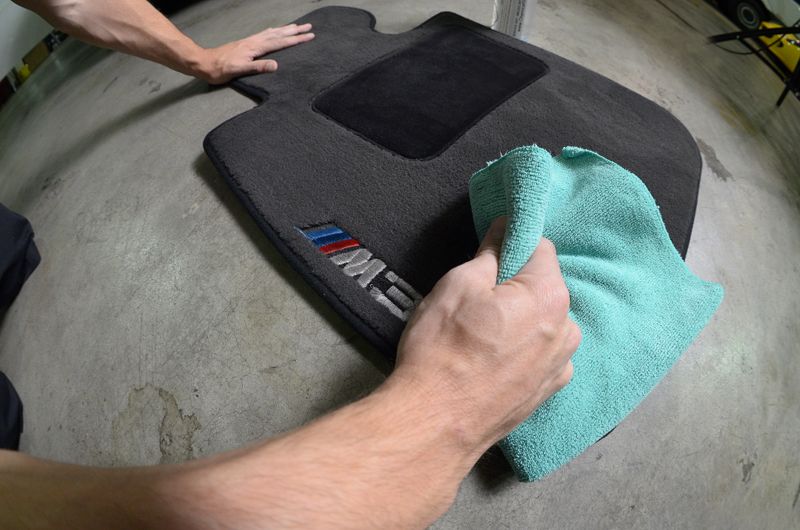 Once the interior was complete, I wanted to give the professional strength of NONSENsE a test. I couldn't help to notice the tires were covered in brake dust and dirt so I decided to give the tires a wipe down. I was shocked by how much dirt and grease came off the tire. After just a few wipes, the tires were clean and dry to the touch with a beautiful matte look.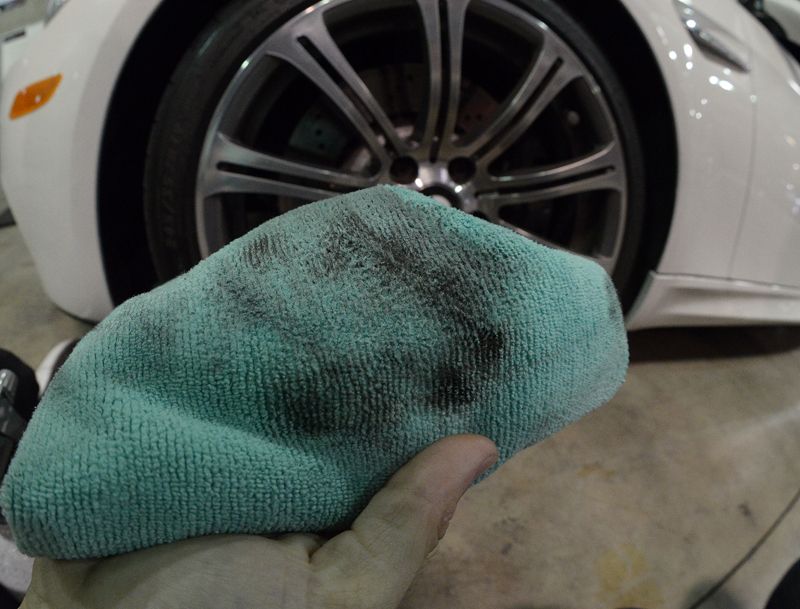 To finally finish this test, we really wanted to use NONSENsE on a very sensitive material. Since NONSENsE utilizes Transparent Cleaning Technology, no scent or color is left behind on any surface. These features make NONSENsE ideal for the task at hand. There just happens to be a stunning Lotus Elise equipped with a pair of custom Technocraft Kevlar race seats with special Alcantara inserts. Since the owner really enjoys taking the car on twisty country back roads, he gets a lot of dust and debris on the sensitive Alcantara material. To remove and dirt, oil, and dust from seats we used a light spray of NONSENsE diluted 20: 1 on a microfiber towel to gently wipe and clean up the soft Alcantara.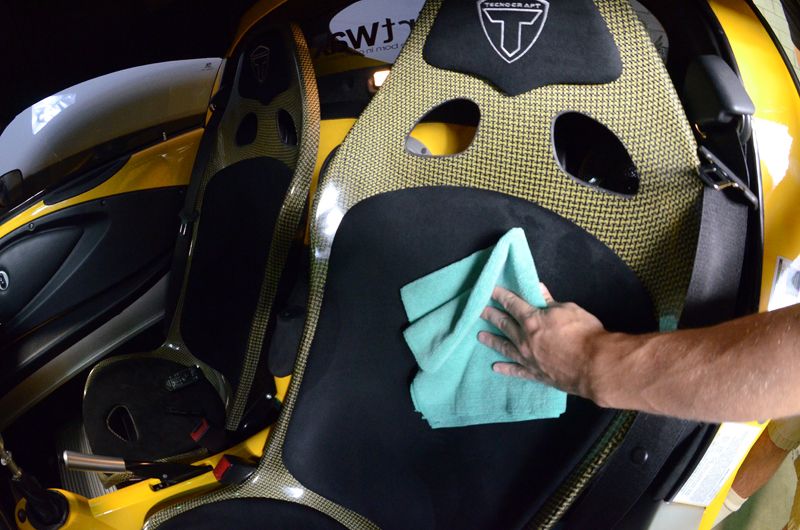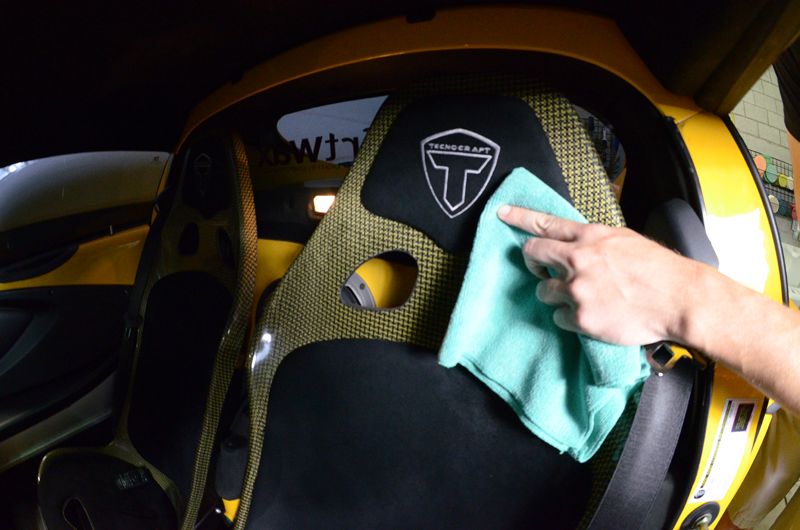 NONSENsE has endless uses to remove dirt, stains, and contamination from any area of a vehicle. Detailers and enthusiast can feel safe knowing there is now a zero color, zero scent super cleaner with professional strength that won't harm or damage the sensitive material equipped on modern vehicles. No matter what the task, nothing will stand in your way with NONSENsE. Join the odorless and colorless revolution with NONSENsE, the ultimate colorless and odor free super cleaner.

For all of your automobile cleaning supplies, car detailing accessories, car wash detailing supplies and auto detailing tips be sure to check out the Chemical Guys website at www.ChemicalGuys.com where we specialize in wholesale detailing supplies to the detailing industry and enthusiasts.

Our new Factory Direct Auto Detailing store is packed with auto detailing supplies and auto detailing accessories and is open 7 days a week. Drop by and ask questions, bring in your car and test out some products or if you are looking to have some real fun be sure to check out one of our amazing DIY detailing classes on Saturday at our Smart Detailing University where you can learn all about detailing your own car. Just added to our monthly classes, our all new Intro to buffing seminar is taught every 3rd Saturday of the month. The intro to buffing seminar teaches you all about buffing a car. From the proper way to wash a vehicle to detailed hand-on training on the use of car detailing clay and understanding the best products to use and steps to take when buffing a car.