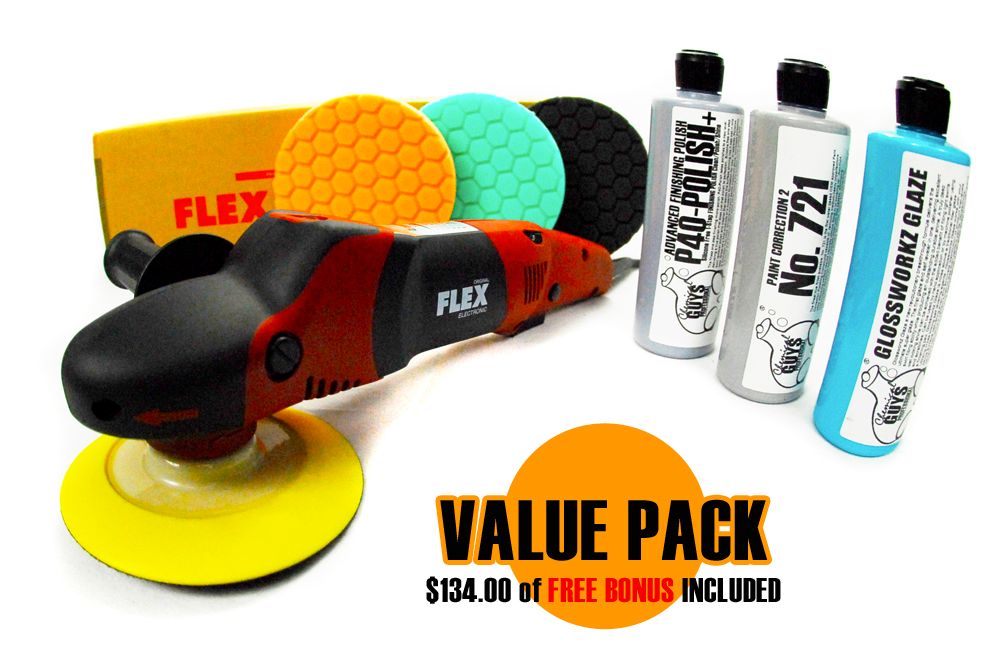 The industries leading polisher is here!

ORDER TODAY and for a limited time, your FLEX PE14-2-150 orders will include over

$134 worth of free bonuses.

FREE 16oz P40-polish

FREE 16oz Paint Correction 2

FREE 16oz Glossworkz Glaze

NEW!

FREE Premium Low-Profile Hyper-flex Backing Plate
Free 6.5" Hex Logic Black Finishing pad
Free 6.5" Hex Logic Green Cut *& Polish Pad
Free 6.5" Hex Logic Orange Euro Cut Pad


$134.00 value YOURS FREE
When the leader manufacturing company of buffers in the world release a new and improved buffer you know it has to be amazing. The FLEX PE14-2-150 Rotary Polisher delivers factory approved fast easy and perfect defect removal and paint correction. The ergonomic and super lightweight design delivers a buffer unlike any of it predecessors.


The new FLEX PE 14-2-150 Polisher was developed by professionals for professionals. Motor and gear unit are extremely quiet. The optimum speed range of 600-2100RPM and the high torque are ideal for treating a variety of surfaces. The ergonomic design and low weight make it easy to reach and prepare even problematical spots. The maximum polishing pad diameter is 200mm enabling horizontal and vertical surfaces to be quickly and comfortably treated.