Detailers Radiant Finish Kit - In order to deliver the most vibrant and radiant of finishes you will need the right tools.
Thanks to Chemical Guys UK, the Detailers Radiant Finish Kit is a huge seller in Europe. We liked the kit so much we decided to bring it to the US. Combining our 2 newest product Black Light Radiant Finish and Hybrid V7-Optical Spray Sealant we included a premium foam applicator and 2 premium towels,( a monster 16 x16 and our all new Silk-banded Shaggy Towel) FREE to sweeten the deal.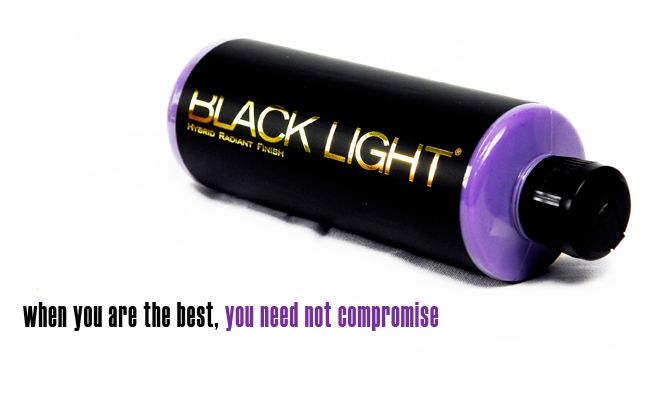 The brain child of 3 years of research done by Chemical Guys Thailand in conjunction with Chemical Guys USA to developing a durable extremely vibrant Hybrid Finish that would deliver the maximum level of color vibrancy and optical brightness while withstanding the harsh and humid climates of Thailand and the vigorous testing of our OEM and professional users
Black Light was originally released for sale only in Thailand as a 1 year test study... the results were amazing. In order to test products under various climates and conditions, a series of products were sent to the UK and Thailand where further testing would be conducted on 2 very specific products, Hybrid V7 and Black Light. To say the least, we were very happy with the results.

Black Light Radiant Finish is crafted and formulated especially for car lovers who aim for the smoothest , sharpest and wettest reflection possible with strong durability ,ease of application and anti static property.
Black Light Radiant Finish has a fully synthetic nano blended formulation with a massive emulsion of gloss enhancers coupled with the new bi - blend technology that leaves one crazy slick finish .
The new blending technology allows for vastly homogeneous mixture resulting in an extremely smooth finish once the applied layer is fully and properly cured.
For best results apply by hand via a foam or Microfiber applicator. Apply in a thin and even coat. Due to the Nano blending formulation BLACK LIGHT will blend and cure in around 15 minutes, then use a plush microfiber towel to buff off. To reach optimum results allow 30 minutes before reapplying a second coat .