Introducing the world's most advance headlamp restoration system.
The first kit that comes complete with
KONEXIS
nanotechnology to re-seal headlight protecting them for years to come.
GlassyLite is an OEM grade headlamp resurfacing package now available to the public as a DIY (do it yourself) kit. GlassyLite requires no power drills or tools and is extremely easy to use. Glassylite Headlight restoration and protection kits restores all plastic headlights that are: hazy, yellow or dull , sun burned , born or fading.
What makes Chemical Guys -GlassyLIte Headlight Restorer and Protectant System unlike any other, is its simplicity and ease of use combined with industry leading lens sealant. Chemical Guys Glassylite utilizes KONEXIS - Nano-sealant. KONEXIS nanosealant is a special cross linking oligomer which are 20nm wide and has self leveling properties. The Nano sealant provides a chemically fused bond by cross linking with open bonding sites on the polycarbonate surface. The new layer protects and prevents polycarbonate from degrading via hydrolysis, ultraviolet light, heat or mechanical abrasion.
FAST & EASY.

The BEST & Most Advanced Headlight Restoration Kit You Can Buy

KONEXIS Cross-linking Nanotechnology Derived From Aerospace Applications seal headlights protecting them for years to come.

The Simple 3-Step Process Requires No Skills & No Drills

Replaces The Original OEM Factory Hard Coats And Offers Long Term Protection

Don't Be Fooled By Temporary Solutions, Requiring You To Polish Weekly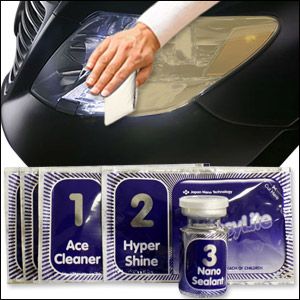 As featured in hundred of magazines and industrial write ups like Sports Compact Car- Glassylite delivers professional results that last!
Whether you have a hard time seeing at night or just want to make your car look new again, Glassylite restores yellowed sun-damaged, UV beaten headlights. Glassylite is the best headlight restoration system. In just 3-Easy Steps GlassyLIte restores your headlights in just minutes. Save money, save time, and protect your family with Glassylite. You can increase your car's value in minutes, you'll be able to see more clearly, and Glassylite really works. Your headlights will be like new in no time. No more struggling to see, with Glassylite your headlights will shine brightly again.
No other headlight restoration product can compare to the technical advances of GlassyLite.The Nano-sealant has a much higher scratch resistance rating then your OEM hardcoat.
KONEXIS OEM Headlight Re-Sealing System
Chemical Guys uses KONEXIS nanotechnology OEM Sealant to reseal headlights once they are clean! Konexis adheres to the plastic lens on the molecular level when properly applied to protect the headlight for years to come.
GlassyLite is a premium headlight restoration treatment. GlassyLite's secret is the breakthrough in advanced KONEXIS Nanotechnology, originally developed and currently synthesized in Japan for aerospace glass applications. GlassyLite is specifically formulated for polycarbonate plastics (used in all plastic headlights) to restore old dull, hazy or yellowed plastic headlamps to a new finish. Right out of the package